Healthcare Influencers | GlobeSt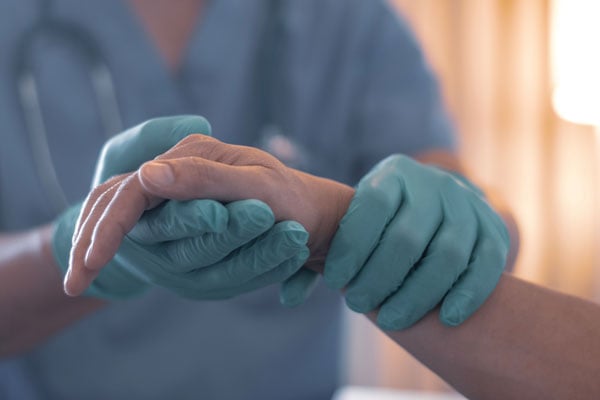 Medical office buildings are having a moment, as we say in our feature on page 8 and that is also true for the entire range of healthcare real estate assets, more or less. It is being fueled by headwinds that include an aging boomer population and the still-overwhelming demand by patients to get their healthcare services in person at a physical site. Medical professionals also tend to be among the most creditworthy tenants. These dynamics are attracting new buyers to the space, even as deal flow across CRE has slowed considerably. Not that navi-gating this space is easy; healthcare real estate also includes the always complex category of skilled nursing and even medical office buildings come with certain challenges. The men, women, teams and companies we have selected as having the greatest impact in this cate-gory in the last year, though, are well-suited to address both the upside healthcare offers and its downsides.
INDIVIDUALS

DERRICK D. BRACKS Derrick Bracks is national director of healthcare and life science at Stealth Realty Advisors LLC. In this role, he sources, identifies and quali-fies off-market opportunities so that company advisors can present them to clients. Since joining Stealth Realty Advisors, Bracks has partici-pated in more than $150 million in offers, resulting in more than $100 million in closings. Prior to joining the firm, Bracks was a member of the CBRE investment group in the Los Angeles office. He holds a master of business administration degree, and is an astute business and finance professional. He is described as an excellent listener, a skill he uses to better understand the needs of owners, investors and devel-opers, and he has a good understanding of the current economic climate and can articulate the variables to peers and clients alike. Along with Stealth Realty Advisors, Bracks supports animal rescue organizations and shelters through monetary donations. He also is actively in-volved in helping a refugee from Ukraine.

JAMES P. COMAN James Coman is managing director of capital markets in the healthcare and life science group at Stealth Realty Advisors LLC, where he is responsible for all production of capital markets, acquisitions and dispositions for the firm's clients nationwide. With more than a decade of industry experience, Coman seeks investment opportunities for the firm's clients based on their specific investment criteria while ensuring they will qualify, pass underwriting and achieve a successful offer and transaction close. Coman's clients include healthcare REITs, private investors and health systems. This year, he has closed nearly $100 million of medical office buildings across the country. Outside of work, Coman is active in his community and his church, and he supports a canine shelter and rescue through Stealth Realty Advisors' annual do-nation drive.

EDWARD (CHIP) L. CONK After working in the multifamily sector, Chip Conk founded Montecito Medical Real Estate in 2006 with a physician-centric focus. Rather than treating provider groups as participants in one-off real estate transactions, Montecito built long-term relationships with physicians. Its model allows physicians to maximize the value of their properties by retaining ownership in their buildings after a sale and allows them to reap tax advantages and ongoing cash flow, as well as a share of profits upon resale. To date, sellers have retained more than $70 million in own-ership in their buildings with Montecito. Conk, as CEO, pushed for further innovations that helped build wealth in healthcare real estate for physicians through private investment funds involving portfolios of high-quality medical office properties. During the past three years, Mon-tecito has subscribed three physician-centered funds involving a combined total approaching $500 million. Conk also led development of an artificial intelligence technology solution that helps physicians enhance patient care while reducing costs and growing revenues, including a clinician recruitment tool, a staff scheduling tool and a patient information analysis tool. Under Conk's leadership, Montecito has become one of the largest privately-held acquirers of medical properties, logging $1.45 billion in medical real estate transactions in 2021. Continu-ally recognized for his leadership and innovation within the healthcare sector, Conk's decision to build the company around medical office real estate has prepared it well for Black Swan risks. Such properties proved resilient during both the 2008 recession and COVID-19 thanks to strong fundamentals and rising demand for healthcare services. 

MICHAEL DETTLING With nearly 50 years of industry experience consulting with hospitals, medical groups and other healthcare organizations throughout South-ern California, Michael Dettling prides himself on long-term business relationships built on consistent service and optimal results. Dettling, a principal at Avison Young, assists healthcare clients in developing and implementing strategies to optimize their real estate portfolios, re-duce costs, raise capital and expand services. Dettling recently served as a national director for Avison Young's healthcare services group, and he has personally leased or sold seven million square feet of medical space, including hospitals and medical buildings, during the past several years. He recently represented San Diego Fertility Center in a 10-year lease of 10,000 square feet in Irvine, CA, as well as CA Eye Specialists in several separate lease transactions in Tarzana, Glendale and San Gabriel. He also represented the seller in the $4.3 million portfolio sale of two medical buildings in Corona, CA. During the height of the pandemic, Dettling reviewed selected providers' real estate portfolios to help decide whether to close or consolidate outpatient offices or consider mergers. This rightsizing effort helped reduce costs and ensure the providers' viability. Dettling is an active member of numerous volunteer civic groups and organizations, including the Univer-sity of San Francisco Southern California Alumni Association, the American Hospital Association, the Beeve Foundation for World Eye and Health and Options for Youth. 

RAYMOND FOX The demand for medical facilities that provide quality care in a welcoming environment is what drove Raymond Fox to pioneer a comfort-first methodology that benefits patients, caregivers and medical facility staff and physicians. Fox is a principal and medical architect at medical architecture firm Raymond Fox & Associates and he holds 46 years of experience in planning, designing and developing medical facilities. With a nine-member team based in San Diego, Fox's firm has a portfolio of more than 5,500 medical architecture projects that emphasize patient mobility, privacy and fostering the patient-caregiver relationship. The firm's project volume has increased nearly 40% in the past three years. One of Fox's largest recent projects is Palomar Health, which includes three 80,000-square-foot medical office buildings adjacent to the Palomar Medical Center Escondido hospital campus. Fox has become a leading architect on Program of All-Inclusive Care for the Elderly facilities, which provides medical and social services in one place so seniors can opt to live at home. In addition to five PACE facilities for San Ysidro Health, Fox is designing facilities in Oakland, San Francisco, Ventura, El Centro and Palm Springs. His expertise and insight into how the industry should respond to the pandemic and other health crises resulted in his appointment to a pandemic task force, for which he provides input on building guidelines that address health and safety concerns brought on by COVID-19. Recently, Fox started a financial aid program in which he supports clients' missions to help low-income families by donating a portion of the firm's fees to fund various programs. 

JOSH GREGORY During a career spanning 20 years, Josh Gregory has provided real estate counsel to hundreds of businesses with an in-depth understanding of the Atlanta office market. A full-service healthcare real estate broker, Gregory is a designated fellow within the Colliers healthcare services group, which reflects advanced expertise and experience in healthcare real estate. A principal and SVP at Colliers, Gregory has expertise in acquisition, disposition, tenant relations and landlord services. He takes special pride in being able to help stabilize community healthcare across the country by helping practitioners take control of their financial wellbeing through ownership of locations and packaging spaces for sale or lease, a particularly important endeavor during the pandemic. Not only did his work help protect practitioners, but he also has been assisting doctors in restructuring their worksites to provide hybrid in-person and telehealth services that better serve the post-pandemic pub-lic. His specialty in health includes the behavioral health industry, creating homes for services that treat depression, substance abuse, eating disorders and psychiatric care that benefit the communities where these services are needed most. A notable recent transaction for Gregory was the $101.7 million sale of two medical office buildings for the Atlanta Women's Health Group to Northside Hospital. He has consistently been named an Everest award winner at Colliers US. In effort to serve the community with his CRE skills, Gregory has provided consulta-tions to help numerous charter schools in the Atlanta region by advising them on best practices for locating potential sites, obtaining leases and purchasing buildings, financing and other related real estate requirements.

JULIE JOHNSON When Julie Johnson entered commercial real estate more than three decades ago, not only was she one of few women in a male-dominated industry, but she was also one of the first brokers to specialize in healthcare. She rose to leadership within the sector, participated in its evolution and growth and now serves as EVP at Colliers. In her role, Johnson provides comprehensive healthcare, life sciences and seniors housing services throughout the greater Phoenix region. Her specific areas of specialization include single and multi-tenant medical office buildings, surgery centers, hospitals and specialty hospitals, life sciences, behavioral health facilities and seniors housing, including skilled nursing, assisted living, memory care and independent living. Within the past three years, Johnson's deal volume has totaled nearly $15 million, primarily revolving around medical office and senior housing sales. In addition, Johnson is a leader of the Wurth-Johnson healthcare real estate team at Colliers, she is qualified to be a healthcare fellow, and she serves on the firm's leadership steering committee. Her in-fluence has extended beyond real estate to the broader general healthcare community. In 2008, she created an informal networking event called "Healthcare Chicks Happy Hour" that has now evolved and grown into a group that offers advance sign-ups for businesses that wish to host one of the monthly meetings. Johnson continues to develop the group's online presence by posting healthcare articles detailing indus-try trends on LinkedIn. At the onset of the pandemic, Johnson focused on representing tenants in rent abatement negotiations and pitched in by helping to find personal protective equipment for hospitals by networking with other Colliers healthcare fellows.

SUZET MCKINNEY Dr. Suzet McKinney is a public health specialist, medical executive and an expert in emergency preparedness and response. She is principal and director of life sciences at Sterling Bay. Within her role, McKinney develops, leads and expands its life sciences division locally and nationally, pursues life sciences facilities grant programs and advances all Sterling Bay life sciences initiatives. Previously, McKinney served as CEO and executive director of the Illinois Medical District, which she transformed into a healthcare and technology innovation district. While there, she commissioned research showing that life science developments are engines for job creation and economic development. She also initiated a development boom in the district, with nearly $1 billion in projects underway and additional projects in the pipeline totaling more than $500 million at the time of her departure in early 2021. McKinney's vision included the development of a 30-acre life sciences innovation park that clustered healthcare, science and technology-based companies and institutions, while advancing economic development in one of Chicago's most underserved communities. In addition, she led efforts to invest more than $6 million in Minori-ty/Women Business Enterprises on Chicago's West Side. Her focus on diversity has continued at Sterling Bay, where she works with its Prysm Institute, a business incubator that provides resources, support and mentoring for minority and women entrepreneurs starting life sci-ences and healthcare technology businesses in Chicago. In 2020, at the height of the pandemic, McKinney led operations for Illinois to get five major alternate care facilities up and running should they be needed for COVID-19 patient overflow. She worked with the U.S. Army Corps of Engineers and multiple construction, architecture and project management teams to prepare the facilities.

BOND OMAN Although he knew early in his career that the construction business was not right for him, Bond Oman took his experience working in his family's construction company and applied it to his work in the investment side of commercial real estate. Together with his partner, Tom Gibson, Oman founded asset management firm OGA in 1991, which focused on assisting banks in managing properties they acquired dur-ing the savings and loan crisis and expanding into managing properties directly. That experience led Oman and Gibson into the healthcare development segment, where they gained expertise in site selection and finance and built hundreds of dialysis clinics. More recently, as CEO of OGA, Oman led the expansion of the firm into a wider array of projects, including developing medical office buildings, a hospital, cancer centers, behavioral health facilities, labs, outpatient surgery centers and urgent cares. Under Oman's leadership, OGA has developed more than 400 medical facilities ranging in size from 5,000 to 150,000 square feet across 35 states. Recently, OGA began expanding into the Southwest healthcare market with an office in the Dallas-Fort Worth metroplex. The company has also become a leader in adaptive re-use of properties not originally intended for healthcare applications, such as its conversion of a former bowling alley in Nashville into a 27,500-square-foot dialysis facility for Vanderbilt Health. Oman supports civic and professional organizations such as the Nashville Health Care Council and the Japan-American Society of Tennessee. He and OGA are also involved in supporting national charities and 501(c)(3) organizations, such as Centerstone, a national not-for-profit health system providing mental health and substance abuse disorder treatments, and the National Kidney Foundation, a national health organization fighting kidney disease.

ALENA SAKALOUSKI JOHNSON Alena Sakalouski Johnson is no stranger to adversity, but she has made it a habit to overcome challenges, both personal and professional. Along with her family, Sakalouski Johnson immigrated to the US from Belarus at age 18 and learned English while attending the University of Minnesota, where she studied architecture. She then worked as a perioperative aide at Allina Hospital, which ignited her passion for healthcare, and then blended her two passions by focusing her career on healthcare design and its impact on patient outcomes. Now, Sa-kalouski Johnson is an ACHA-certified healthcare architect—one of only 400 in the country and one of seven in Minnesota. With 16 years of experience, Sakalouski Johnson has a particular focus on mother-baby birthing centers and pediatric renovation projects with clients such as Children's Minnesota and Gillette Children's. As VP of architecture for healthcare at Ryan A+E Inc., Sakalouski Johnson leads a team of 17 healthcare architects and designers located across the country. She participates in all aspects of the design process, from clinical planning and conceptual scoping to leading teams of clients, consultants and construction partners. She is involved in many internal teams at Ryan, including the companywide senior leadership team and the A+E senior leadership team. Since joining the firm in 2017, Sakalouski Johnson has been instrumental in the growth of the healthcare team's pediatric and cardiovascular design space. Her community leadership involves a grassroots level of participation in several causes that she is passionate about. Through her work as a translator—in six languages—for the Advocates for Human Rights of Minnesota, she has changed the lives of refugees and immigrants.

SABRINA SOLOMIANY During her 20-year career in investment real estate, Sabrina Solomiany has gained industry insights from some of the top producers in the healthcare real estate space. She has closed more than $8.2 billion in total transaction volume, including $6.5 billion of healthcare and life sciences transactions that totaled more than 22 million square feet. Solomiany is senior managing director and national head of medical and life sciences at Berkadia, a platform she launched in June of this year. She is responsible for building out the new team with brokers, analysts and project managers, originating deals for both debt and investment sales, and educating her colleagues about the new medical office and life science team and platform. Solomiany and her team offer debt placement, investment sales, structured finance and joint-venture equity. As a commercial real estate producer during the 2009 recession, Solomiany learned firsthand the importance of main-taining and fostering relationships with clients and providing expert guidance during varying times of crisis. A true collaborator, Solomiany uses her knowledge and skills to provide the best possible service to her clients and she serves as a faithful mentor to her teammates and colleagues. She has moderated and participated in numerous conference panels, including the BOMA Healthcare Conference in April 2022, and she also volunteers at the Atlanta Food Bank and the Angels Among Us Pet Rescue.

JOHN WILSON In 1995, John Wilson launched a healthcare real estate advisory initiative that has grown into HSA PrimeCare and since then, he has led the Chicago-based firm to become one of the region's largest developers and managers of healthcare facilities. Wilson, who is responsible for operations as president of the firm, has been successful in tenant representation, property marketing, real estate development, land transac-tions and owner representation. The firm has developed, leased and managed more than two million square feet of medical office buildings across the Midwest. Many of HSA PrimeCare's developments are for repeat clients, which underscores the firm's longevity and respect in the marketplace. For example, its decade-long partnership with Silver Cross Hospital has resulted in several successful projects, including a 40,000-square-foot medical office pavilion opened in 2020 that houses urgent care, occupational health, primary care, cardio therapy, der-matology and urology. In spring 2022, HSA PrimeCare completed a 5,168-square-foot expansion of the University of Chicago Medicine Comprehensive Cancer Center, located on the Silver Cross Hospital campus in New Lenox, IL. In addition, HSA PrimeCare partnered with Froedtert & the Medical College of Wisconsin health network to develop a new community hospital in Oak Creek, WI, which opened in Janu-ary 2022. Wilson and HSA PrimeCare's executive team regularly offer insights on the broader healthcare real estate industry by participating in virtual industry conferences and panels. Wilson shares insights on how developers are reacting to the pandemic, the importance of pro-gramming flexibility into facility design, and the impact millennials and Gen Z are expected to have on healthcare delivery. In addition, Wil-son advises health providers on everything from reallocation of capital to maximization of time and other resources, enabling executives to focus on expanding services and enhancing patient care.
TEAMS
ARNALL GOLDEN GREGORY LLP'S HEALTHCARE REAL ESTATE TEAM Combining decades of healthcare industry expertise and deep real estate experience, the healthcare real estate team at Arnall Golden Gregory LLP is a market leader that often works with distressed nursing homes and assisted living communities. The team is led by Hedy S. Rubinger, who was AGG's first dedicated healthcare associate. As partner and founding chair of AGG's healthcare practice, Rubinger has significantly grown the team. Rubinger formed AGG's change of ownership team to provide legal counsel for all regulatory aspects of healthcare real estate transactions. The team has served as primary regulatory counsel in transactions valued at more than $25 billion and notably advised Ventas on a major internal restructuring project spanning operations in 34 states. Her work focuses on representing the owners and operators of healthcare real estate-related entities including nursing homes, assisted living facilities, continuing care retirement communities, home health agencies, hospices, healthcare IT companies, and ancillary service providers. She also represents domestic and foreign private-equity investors in healthcare, REITs and other investors in healthcare real estate, developers of healthcare facilities, man-agement companies and lenders and has extensive experience in managing the regulatory aspects of healthcare transactions, ranging from single-facility purchases and sales to some of the largest multistate, multiple service-line transactions. Rubinger works closely with partner and chair of the healthcare real estate industry team Steven A. Kaye to lead a practice that handles smaller transactions, multi-billion dollar deals, and any legal issue faced by an operator, owner or investor in healthcare real estate. Kaye has significant experience representing public and private REITs, private equity funds and institutional investors in connection with portfolio acquisition, disposition, leasing, fi-nancing and recapitalization transactions, as well as with dispossession of distressed tenants, including licensed operators of healthcare facilities. He counsels owners, developers and users of senior housing facilities, medical office buildings and other healthcare facilities.
CBRE HEALTHCARE & LIFE SCIENCES CAPITAL MARKETS Since it was founded in 2009, CBRE's healthcare & life sciences capital markets team has become a trusted advisor to healthcare investors. The team, led by vice chairman Lee Asher, serves a diverse group of clients, ranging from large institutions to REITs to private-equity shops to foreign capital. The HLSCM team is a fully-integrated, national team serving as an advisor to healthcare real estate investors and borrow-ers of all sizes. The team provides a full set of capital markets services, including acquisition, disposition, recapitalization, strategic capital planning, financings and structured finance, and it has acted as an exclusive advisor for dozens of prominent health systems, biotech com-panies and physician groups in the developer selection process. During the past three years, it has closed more than $10 billion in sales across 135 transactions, comprising 548 properties and 26.5 million square feet of healthcare real estate. This year, the HLCSM team has closed nearly $5 billion in sales and healthcare real estate financings, including two portfolio transactions that closed in January for a total of $3 billion. During the height of the pandemic, the team helped facilitate health system monetizations and loan extensions, and it fi-nanced a medical office building construction loan in the Permian oil basin in June 2020 during an oil crisis. Aside from its professional accomplishments, the team has a strong philanthropic focus and supports numerous charities.
COLLIERS' MINNEAPOLIS HEALTHCARE TEAM When healthcare services clients suddenly had to pivot to telehealth and a remote workforce during the pandemic, the Minneapolis healthcare team at Colliers reviewed existing leases to determine options for flexibility and helped to request rent abatement during the lockdowns. Working with both landlords and tenants, the team sought cost-effective and creative solutions to the challenges faced by both sides. When healthcare real estate clients faced hurdles in construction, leasing and staffing sustainability, the team provided assistance with complex acquisitions and dispositions burdened by cash flow issues, the supply chain slowdown and other problems. The team, founded in 2009 and led by SVPs Louis Suarez, Brian Bruggeman and Misty Bowe, is a full-service healthcare real estate brokerage and advisory provider that handles lease agreements for both landlords and tenants, and brokers investment sales, acquisitions and dispositions. In 2022, the team completed a 127,000-square-foot lease renewal at WestHealth in Plymouth, MN and a 78,500-square-foot lease for a new clinic and ambulatory surgery center in Lakeville, MN. The team also brokered multiple new leases in cities across the region and handled the acquisition of more than 50 acres of land for a new hospital in Cambridge, MN. The team empowers healthcare companies to outsource ongoing real estate leadership roles. For example, Bruggeman serves as the director of real estate for a Minneapolis-based hospital system, where he is responsible for the system's hundreds of leases as well as its portfolio of owned real estate assets. Suarez, Bruggeman and Bowe have each been designated as healthcare fellows in Colliers' healthcare services group.
CUSHMAN WAKEFIELD'S COLORADO HEALTHCARE ADVISORY PRACTICE Cutting-edge data and analytical capabilities has set Cushman Wakefield's Colorado healthcare advisory practice apart from other healthcare real estate teams. Using proprietary healthcare databases, the team tracks hospitals, physician groups and other provider net-works, estimates inpatient and outpatient demand in specific markets, and predicts demographics to understand where a given patient pop-ulation is located. The result is in-depth information to empower clients to make better decisions. Founded in 2015, the team includes man-aging director William B. Lucas, senior director Stuart Thomas, senior associate Ken Brown and financial and healthcare analyst Luke Myles. The team offers expertise in agency leasing, tenant representation, strategic acquisitions and dispositions, and corporate services both in Denver and across the country. During the past five years, CHAP has recorded a total transaction volume of $325 million on 1.6 million square feet of property. From 2018 to 2021, the team worked with client Aurora Mental Health center to help restructure its portfolio through multiple dispositions, acquisitions and sale-lease-backs on properties that helped AMHC erase debt, improve its fiscal strength and promote its overall image and care delivery model. During the height of pandemic, CHAP facilitated multiple sale-leasebacks so that organizations were able to take better advantage of insurance reimbursements, and the team has moved multiple physician groups into more reliable fa-cilities that ensure stability and promote their brand. CHAP works with a handful of community and behavioral health groups that serve low-income populations, including many nonprofits. The team continues to target these types of real estate transactions as they create new problem-solving scenarios that result in noticeable impacts in their communities.
DAVIS PRINCIPAL TEAM The Davis principal team is focused on transforming the traditional sterile and bland healthcare aesthetic into experiential spaces that make going to a specialist more pleasant. Each building is placed near restaurants, retail and grocery hubs and includes state-of-the-art designs and equipment. Properties feature homey landscapes made with organic materials, modern artwork, and sometimes even a cozy fireplace, all of which are designed to bring peace in times of discomfort. Founded in 2009, the Davis principal team is led by managing principal and CEO Mark Davis, principal Michael Sharpe and principal Jill Rasmussen. The Davis principal team offers a full-service real estate strategy from development and ac-quisitions to consultations and property management. This year the team completed the construction of Xchange medical in St. Louis Park, a 78,000-square-foot medical facility that includes innovative features such as an exterior healing garden and massive living wall. The team is nearing completion of a 44,000-square-foot specialty center and a 16,000-square-foot specialty center, and it has broken ground on a 100,500-square-foot medical complex. Davis has partnered with numerous specialty providers and large health systems, including Allina, MNGI Digestive Health, OVO Lasik & Lens, ENT Specialty Care, Surgical Care Affiliates, Lorenz Clinic, Tailwind Pediatric Dentistry and Minnesota Retina. Beyond the world of real estate, Davis has been an active participant in Hearts and Hammers, a nonprofit organization that provides exterior resto-ration for free to low-income homeowners such as disabled individuals, senior citizens and veterans.
EQUITY MARKET STRATEGY Founded in 2007, Equity LLC's market strategy team was formed to capitalize on the convergence of healthcare delivery in a retail setting. It started with urgent care spaces coming out of the 2008 recession and it went on to complete more than 250 urgent care properties, primarily in endcaps of outparcels to major shopping centers, capturing 10% market share between 2011 and 2013. More recently, the team complet-ed more than 150 behavioral health transactions, predominantly in a medical office setting, resulting in more than 10% market share. Over-all, the team has now completed transactions in 45 states, representative of more than 18 different healthcare use types in retail and healthcare settings. As a tenant-only advocate, the team is frequently approached by landlords with questions about how to incorporate medical uses into their projects. Co-led by president Patrick Wathen and managing director Matt Lasky, the team handles front-end analysis through site selection, lease negotiation and portfolio management. The group aims to stay ahead of trends to build a robust and anti-fragile business, which was highlighted as it grew production each year since 2019, including record-setting years in 2020 and 2021. Since Q4 2019, the team completed more than 375 transactions, ranging from rural 2,000-square-foot de novo assignments to 30,000-square-foot on-campus lease renewals. During the past three years, the team expanded its transactional experience to 94% of the top 50 MSAs by pop-ulation, completing more than $400 million in transactions.
GREYSTONE HEALTHCARE FINANCE TEAM Greystone's healthcare finance team sets its strategy by imagining what keeps providers up at night — whether it be debt, equity, insurance or equipment — and then working to solve those challenges. This strategy has proven successful as the team has done $5 billion in transactions and helped clients navigate through several economic, regulatory and reim-bursement cycles. Established in 2020 and led by senior managing director and FHA healthcare head of production Scott Thurman, the team has a combined 150 years of experience in advising providers in the healthcare sector, including skilled nursing and senior housing. Thurman, a former HUD employee who was part of the team that developed the LEAN program, has prioritized Greystone's involvement with associations including the Mortgage Bankers Association and the American Health Care Association. Thurman is a founding member of the Healthcare Mortgagee Advisory Council, a na-tional nonprofit association that brings together lenders and the FHA, and he also previously served as the organization's inaugural president and president. Greystone has grown to $1.2 billion in healthcare financings today, up from $300 mil-lion just a few years ago. As a financial intermediary, the team influences and shapes transactions by bringing together buyers with sellers and borrowers with capital, working to ensure the success of each transaction every step of the way. Deals include a $7.3 million HUD-insured loan to refinance a 78-bed assisted living community in Great Falls, MT, and $7 million in bridge financing to refinance acquisition debt for a 137-bed assisted living facility in Wellsville, NY. Thurman's team is dedicated to the healthcare space, with a shared belief that their work is meaningful beyond dollars and cents.
H2C'S HEALTHCARE REAL ESTATE During the past 36 months, the healthcare real estate team at H2C has handled nearly $2 billion in transaction volume focused on niche healthcare real estate sub-asset classes, such as inpatient rehab, behavioral health and blood plasma. In the midst of a volatile interest-rate environment, the team processed the sale of the largest-ever blood plasma collection facility portfolio for $137 million and led the behavioral healthcare real estate industry in transactions with eight deals during the past two years. Founded in 2011, H2C's healthcare real estate team has doubled in size during the past two years. With extensive healthcare operational knowledge through its M&A and capital markets teams, H2C has been able to bring complex sub-industries of healthcare to the market and put forth a true value proposition for growing verticals of healthcare real estate. The team led transactions on behalf of health systems and healthcare real estate investors and develop-ers, including sales, equity placements and debt placements, as well as developer selections for health systems and providers. As almost half of its engagements are for not-for-profit health systems and providers, it is involved at the strategy level for some of the country's pre-eminent health systems as well as regional providers.
JLL SOUTHERN CALIFORNIA HEALTHCARE SERVICES GROUP The JLL Southern California healthcare services group has experienced four downturns in the economy, but its team members believe that the COVID-19 pandemic made the most profound impact due to the shift in the way workers use commercial real estate. With in-person cli-nician visits still necessary and the aging Baby Boomer population putting a strain on the healthcare system, different spaces are needed in tight markets such as Southern California. Co-led by senior managing director Bryan Lewitt and EVP Chris Isola, the group is the first cross-regional full-service healthcare-dedicated team in Southern California. The team provides services in leasing, buying and selling of medical space to the healthcare industry, as well advising landowners on potential senior housing developments and working with the firm's retail division on 'retailization' of healthcare. The team supports hospital system accounts with various lines of business including leasing, investment sales, property management, construction management, valuations, strategic services and capital markets. It also provides sup-port for JLL's national hospital system accounts, handling the hospitals' off-campus real estate needs. Among its recent accomplishments are representing Southern California Orthopedics Institute in securing three leases totaling more than 100,000 square feet; securing leases totaling 350,000 square feet for landlord GPI; and handling the sale of 10 medical office buildings valued at more than $250 million.
KAUFMAN HALL'S REAL ESTATE PRACTICE Last year, healthcare advisory services company Kaufman Hall acquired Healthcare Real Estate Capital, which became the real estate prac-tice within Kaufman Hall. The practice is led by managing director Hunter Beebe, who founded HRE Capital in 2008. Kaufman Hall provides advisory services to many of the largest health systems in the US. Since 2013, the firm has advised more than 700 healthcare organizations across real estate capital markets, treasury and debt capital markets, partnerships, mergers and acquisitions, and strategic, financial and capital planning. The addition of HRE Capital expanded Kaufman Hall's menu of services to include transaction advisory services for healthcare providers, developers and investors as well as consulting services. The practice's transactional services include asset or portfolio monetization and dispositions, developer selections, equity raises, debt placements, joint-venture structuring and strategic leasing assign-ments. The consultative services offered include strategic real estate options assessments, credit assessments, healthcare demand and market studies, provider tenancy analyses, and sector overview and capital markets studies. The principals have been involved with more than $14 billion of healthcare real estate transactions and are typically engaged in more than $1.5 billion in assignments annually. The practice's recent accomplishments include working with Hammes Partners on a $605 million portfolio sale, working with A.W. Property Co. on a $193 million portfolio recapitalization, and working with Physicians Realty Trust on a $153.5 million portfolio disposition.
KIDDER MATHEWS' PHOENIX HEALTHCARE TEAM Founded in 2011, the Kidder Mathews Phoenix healthcare team is led by SVPs Michael Dupuy, Fletcher Perry, Perry Gabuzzi and Rachael Thompson. The full-service team holds a combined more than 60 years of experience in tenant and landlord representation, investment sales and development in the healthcare sphere. Each team member has a specific role within their sector to ensure all bases are covered. Dupuy specializes in private capital ownership and institutional ownership investment sales; Perry is a tenant/buyer representative; Gabuzzi has a broad range of experience in both ten-ant and landlord representation for medical transactions; and Thompson has in-depth experience in healthcare landlord representation and has worked extensively with institutional clients, REITs and private investors. The team's menu of ser-vices includes lease negotiations, lease renewal and renegotiation, lease vs. own scenarios, occupancy and operational cost analysis, site evaluation, demographic and market analysis, space planning, and negotiating tenant improvement al-lowances. The team also specializes in new-to-market development—a growing trend in Phoenix due to the aging and increasing population. The team is currently overseeing the pre-leasing of four new construction healthcare projects and it has successfully fully-leased three new construction medical office projects in the past year. The team is currently working with Cypress Office Properties to convert a well-known class A office building to a medical office property in effort to meet increasing demands. The team has collectively completed more than 270 deals in the past three years, totaling nearly $300 million in total consideration.
LEE & ASSOCIATES HEALTHCARE REAL ESTATE ADVISORY VPs Chris Jacobson and Susan Wilson have been partners for more than 14 years and have worked together at three different firms. Since joining Lee & Associates, they have impacted their local office, the Minnesota/St. Paul marketplace and the Lee & Associates' national ser-vices platform. Jacobson and Wilson lead Lee & Associates' healthcare real estate advisory team, and they launched and are now leading a nationwide healthcare services platform for all 70 of Lee & Associates' US offices and are actively pursuing the introduction of a healthcare service line in Europe with affiliated Lee & Associates offices in the UK and Germany. The two professionals remain hands-on in the over-sight of medical-related real estate transactions nationally, regionally and locally via their home office in Minneapolis. The team's key areas of focus are medical investment sales, provider representation and advisory services. Within the past three years, the team leveraged the firm's healthcare practice to sell more than $100 million of investment medical office buildings, while maintaining more than 30 active medical clients each year. The duo has designed an award-winning national healthcare website, led cross-disciplinary and cross-market hospital system and physician group pursuits, and furthered the Lee & Associates national healthcare marketing campaign to bring aware-ness to the firm's capabilities. The team also launched a national companywide practice group for healthcare real estate professionals to meet monthly and virtually discuss ideas and challenges.
NEWMARK'S MARK WINTERS TEAM Newmark vice chairman Mark Winters leads a team recognized for its work in life science real estate. The team works with early-stage life sciences companies on critical factors including proximity to top talent, building requirements to support ongoing research, access to essen-tial service providers, and advising on broader real estate strategy. With a long-term outlook, the team's goal is to establish a tenant's real estate footprint and support their growth with insights and expertise. Formed in the early 2000s, the core team has grown to six members and has represented notable pharmaceutical companies including Novartis Institutes for BioMedical Research, Pfizer, Eisai and AbbVie. Despite initial market concerns, life sciences boomed during the pandemic with record amounts of venture capital investment. In an effort to keep pace with client demands, the team added resources and invested time and energy to nurture lasting, meaningful relationships with its cli-ents in what was an uncertain climate. Alongside prioritizing their clients, the members of the life science practice are passionate about community involvement and supporting a variety of causes. Winters supports Baypath Humane Society by donating time and resources to a local animal shelter. He recently secured a land parcel for the development on a long-term ground lease to serve as the future home of a new shelter, and he will assist the foundation as part of the fundraising campaign to raise funds for the new building.
SHEPPARD MULLIN HEALTHCARE REAL ESTATE TEAM Whether working on estoppel certificates or complicated joint-ventures and syndications for the development of cancer treatment centers, the healthcare real estate team at Sheppard, Mullin, Richter & Hampton LLP strives to provide the services that allow clients to work toward their missions. The team represents some of the largest health systems, investors, medical groups, developers and financiers across the US on matters ranging from ground leasing of owned real estate for syndicated development of new medical office buildings, closing single-lender loans and multi-lender credit facilities, redeveloping hospital campuses by providing transactional and land use counsel and drafting and negotiating medical office building leases. The attorneys that make up the team guide clients on complex regulatory issues that arise in healthcare real estate transactions and operations, including the Stark Law, Anti-Kickback Statute, colocation rules and other federal and state healthcare regulations. In addition, the team provides strategic counsel to health systems and investors regarding regulatory-compliant vehicles, such as joint-ventures and other syndications that have become an increasingly favored way for health systems to monetize their assets and maximize returns in the face of capital constraints. Led by partners Timothy Reimers and Scott Timpe, the team has closed hun-dreds of real estate transactions during the past three years covering more than 1.1 million rentable square feet in medical office, building and clinical space. During the pandemic, the team changed its approach to negotiating force majeure provisions in contracts; modified the healthcare regulatory provisions in its contracts to protect clients from both expected and unforeseen changes to the regulatory landscape of the healthcare industry; and negotiated for clients to have broad flexibility to change their operations and uses in order to respond to chang-es in the delivery of healthcare.
TEAM LIZZACK-HORNING OF NAI JAMES E. HANSON Team Lizzack-Horning of NAI James E. Hanson understands that in a market and sector as complex as northern New Jersey, the same old real estate approach doesn't work. Northern New Jersey's combination of favorable demographics, unmatched population density and an array of highly-respected healthcare systems and specialty groups has made it one of the nation's most crowded and competitive healthcare real estate markets. In a sector where deals are already complex and challenging, the speed and pricing seen in the market can often add headaches for even the savviest operators. One of New Jersey's largest full-service independent commercial real estate brokerages, the Lizzack-Horning team was founded in 2014 and is led by VPs Darren Lizzack and Randy Horning. During the past 18 months, the team has closed 33 healthcare real estate transactions with a sales value of $43 million and a lease value of $22.5 million. With deep contacts across the field, the pair created an alliance of trusted professionals from across service lines and expertise that can be leveraged on behalf of their clients called CREA United. Composed of attorneys, engineers, title experts, architects, interior designers, accountants, financial partners and a variety of other highly specialized experts, team Lizzack-Horning brings together a deep bench of professionals to provide a holistic viewpoint to any deal.
TRANSWESTERN REAL ESTATE SERVICES' CENTRAL TEXAS HEALTHCARE TEAM Transwestern's Central Texas healthcare team works collaboratively to serve the real estate needs of both healthcare pro-viders and property owners in the Austin, TX metropolitan area; capturing 25% of the market share. The team members not only have extensive healthcare real estate experience, but they also bring insights to healthcare operations from the med-ical and surgical device field. Established in 2016, the team consists of SVPs Hunter Jones, Brandon Lester and Will Stew-art and senior associate Marshall Thurmond. The Central Texas healthcare team provides a full range of services, includ-ing leasing, investment, tenant advisory, property management, lease administration, supporting compliance require-ments, strategy and planning, funding and financing, project management and construction services. As part of an industry vertical approach, the team serves the health providers that use real estate to care for patients—hospitals, healthcare net-works, physicians, outpatient services, post-acute and life science researchers, and behavioral health—as well as the real estate providers that supply the necessary buildings—private investors, developers, REITs, pension funds, life insurance companies and private equity firms. During the past several years, the team has worked alongside Gemdale USA to de-sign and lease Austin's largest state-of-the-art class AA medical office building, the first building of this classification to be delivered in Austin. In addition, the team works with several major healthcare systems in Central Texas, facilitating their strategic real estate pursuits and future growth needs. Since 2019, the Central Texas healthcare team has completed more than 500,000 square feet of lease transactions and assisted healthcare firms in the purchase of 100-plus acres of land for future healthcare system development.
ORGANIZATIONS
CA HEALTH & SCIENCE TRUST In August, private REIT CA Health & Science Trust celebrated its first anniversary after having built a seven-building medical office portfolio during its first year. In addition, during the past year, CAHST closed a $275 million line of credit, which positioned it to grow its leadership team and continue the acquisition and development of premium medical office facilities to complement its more than 410,000-square-foot portfolio. CAHST was founded with a mission to own, develop and operate medical office properties that provide convenient care to end users across the country. Led by president Russell Brenner, the company is focused on acquiring and developing medical office and life science facilities across the US. The firm prioritizes sustainability and has deployed energy-efficient windows, mission-sensor LED lighting, recycling programs and other sustainable initiatives across its portfolio. For example, CAHST's Naperville medical office building uses pond water for irrigation on the property in lieu of city water. Coinciding with a commitment to give back to each community it enters, CAHST has partnered with the Munster Civic Foundation on its Tiptoe Thru Town public art project. As part of the initiative, CAHST offered space within its Munster medical office for local artists to use as art studios and encouraged community members to view the art in progress.
CATALYST HEALTHCARE REAL ESTATE Catalyst Healthcare Real Estate is a national, full-service healthcare real estate investment firm that seeks to positively impact healthcare with strategic investments in developments, acquisitions and strategy services. The firm, founded in 2011 and led by founder and CEO Chad Henderson, works to build lasting relationships with integrated health systems, physician groups, academic medical systems and hospitals. Within the past three years, the firm has secured a $1.5 billion joint-venture with National Real Estate Advisors, formed a nationwide strategic partnership with PAM Health and Andrews Medicine, and invested more than $1 billion in healthcare real estate. In 2017, Catalyst Healthcare Real Estate adopted the Entrepreneur Operating System, creating weekly, monthly, quarterly and yearly meeting rhythms across the company, which allow various parts of the firm to share knowledge and trends to help identify potential risks and plan mitigation strategies. These strategies have allowed the company to evaluate various outcomes and further understand links across its business environment to be better prepared for Black Swan events. Catalyst Healthcare Real Estate values investing in its employees by providing development opportunities, such as training and conferences, to help them grow professionally and personally. Additionally, the company holds quarterly lunch & learn sessions to connect and educate staff on an array of topics. The company's employee-led impact committee also focuses on ways that it can contribute to the communities in which it serves. Among the committee's initiatives are beautification projects, donations to local food banks and a compa-ny-wide impact event at its year-end meeting.
CYPRESS WEST PARTNERS After Christopher Cumella and Jeffrey Johnson founded Cypress West Partners in 2013, the firm, which focused solely on healthcare real estate, completed 14 investment deals during its first 18 months. Nearly a decade later, partners Cumella and Johnson continue to oversee the firm, which acquires, develops and manages healthcare properties on behalf of institutional owners, hospitals and doctors, across five offices nationwide. Cumella directs all aspects of Cypress West Partners' strategic development, including property investments and acquisi-tions, while Johnson oversees the firm's corporate and property operations, including accounting, property management, leasing, construc-tion management and investor services. The company has acquired three million square feet of medical office properties across the US, including another 100,000 square feet currently under construction. The firm's development expertise is focused on projects from $2 million to $50 million in value and from 5,000 to 100,000 square feet in size. Cypress West Partners utilizes data analytics to choose optimal real estate, and then employs a strategic plan to increase the value of properties on behalf of investors. At the onset of the pandemic, the firm worked with its lenders, partners and tenants to put together a tenant rent relief package; believing it was better to work with tenants than argue with them. As a result, few tenants ended up needing the assistance and the firm did not lose a client through the downturn.
MEADOWS & OHLY Throughout its more than 50-year history, Meadows & Ohly has remained focused on serving those who care for others. Its core strategy in-cludes offering hospitals, healthcare systems and physicians the ability to choose from a menu of real estate services designed specifically for the healthcare market. The firm began by offering a specialized focus on medical office space development and it has expanded to in-clude program/project management, property management, lease administration, brokerage and strategic advisory services. Founded in 1972 and led by partner and CEO John Carter, Meadows & Ohly has built long-term relationships with some of the leading hospitals and health systems in the Southeast and Mid-Atlantic regions. It was a pioneer in physician ownership by developing medical office buildings that used physician-owned limited partnerships with Meadows & Ohly serving as general partner. This model preserves hospital capital and provides a steady investment return to the physicians while buffering them from personal liability. The firm is currently developing a 326,000-square-foot, $170 million state-of-the-art medical office building in Orlando, FL for AdventHealth Central Florida. The 12-story building will offer an ambulatory surgery center, neurosurgery, orthopedics, imaging, rehabilitation and research, offering comprehensive outpatient care in one location. In addition, each of the firm's offices participates in the Meadows & Ohly philanthropic committee and part-ners with local service organizations, schools and ministries.
MERIDIAN Founded in 1999, Meridian focused on providing ambulatory outpatient care real estate solutions before it was a trend. The firm's strategy was built on a mission to provide greater access to care and cost efficiencies for both patients and providers and its projects often include adaptive reuse developments, which allow for quicker time to market. For example, Meridian converted an old post office into an outpatient clinic in Walnut Creek, CA, and it converted an office building into a multi-specialty medical office in Irvine, CA. Meridian offers a range of services to meet the needs of providers and system partners, such as site evaluation, land acquisition, entitlement, planning and construc-tion management. In particular, smaller build-to-suit projects have proved popular with its clients, including a ground-up urgent and primary care building it developed in Oro Valley, AZ, and more than 20 dialysis centers it has developed throughout California. The firm, led by CEO John Pollock, has completed more than 250 million square feet of integrated healthcare development since 1999, including more than 15 campuses and more than 150 buildings. Meridian proudly maintained productivity and retained employees in the changing world brought on by COVID-19. During the past two years, the firm delivered several class A outpatient spaces without interruption, expanded its delivery capabilities to Texas and purchased several buildings for its provider/system partners. Meridian's commitment to its communities focuses on areas that help improve the social determinants of health, such as working with local food banks to increase access to quality and consistent nutrition. Additionally, for the past seven years, Meridian has been actively involved in Bridge of Life, whose mission is to strengthen healthcare globally through sustainable programs that prevent and treat chronic disease.
MRA GROUP Founded as Medical Realty Advisors in 1991, MRA Group has been serving the healthcare industry for more than 30 years. Under the lead-ership of president and CEO Larry Stuardi, the firm provides development, management and advisory services for many leading healthcare institutions in the Greater Philadelphia region and it has more than 4.5 million square feet in commercial real estate under management. MRA Group has developed several medical facilities ranging from small medical office suites to large structures that span more than 100,000 square feet. Some of these properties were client-commissioned, including the St. Mary Medical office building in Langhorne, PA, the Re-deemer Health outpatient facility in Philadelphia, PA, and the Grand View Health outpatient center in Dublin, PA, while other properties were acquired by MRA Group and then renovated and leased to medical care providers. The company's property management team adapted to frequently changing federal guidelines throughout the pandemic while keeping its managed properties operating at the highest level. Last year, MRA Group acquired the Chestnut Run Lab Campus in Wilmington, DE, encompassing 164 acres and 800,000 square feet of labs, research, advanced manufacturing and amenity space across 14 buildings. The firm began a $1 billion redevelopment to transform the new Chestnut Run Innovation & Science Park into a hub for life sciences and advanced manufacturing; representing MRA Group's largest project to date. The transaction for this development was recognized with the 2021 CoStar impact award for best real estate sale/acquisition. The firm also was selected by the University of Pennsylvania to develop the Pennovation Main Lab building on the Pennovation Works campus.
STAN JOHNSON CO. When Stan Johnson founded his commercial real estate firm in 1985, its focus was on the single-tenant net lease sector. Now, after four decades of operation, the firm works with all property types but has a 20-year specialization in the healthcare and medical office sector. Stan Johnson Co. provides acquisition, disposition, sale-leaseback, capital markets and advisory services for institutions, developers, investment funds, corporate occupiers and private investors. The company's expertise includes single-asset and portfolio sales, as well as sale-leaseback transactions and 1031 exchanges across all types of healthcare assets including medical office, urgent care, dialysis facili-ties, ambulatory surgery centers, freestanding emergency rooms and specialty hospitals. Working with both buyers and sellers, the company has completed more than $45 billion in transactions nationwide, including more than 650 healthcare transactions with more than $4 billion in healthcare sales volume. During the past three years, Stan Johnson Co. has increased momentum by closing 285 healthcare sale trans-actions totaling $1.4 billion. In recent months, the company brokered the sales of a Fort Myers, FL medical center for $46.7 million, a Mid-west dialysis facility for $7 million, a sports medicine complex in the Southeast for $11 million, and the 1031 exchange of a pediatric dental office for $8.2 million. The company draws on decades of experience studying the healthcare market to stay ahead of emerging trends and Black Swan events. Using its expertise and past experiences, the firm has been able to help clients stay on the front lines of emerging trends, while urgent care centers grew in popularity and as "medtail" became a recognized concept.
THE PRACTICE COS. Practice Real Estate Group's team of experts combines research and hard work to help doctors and healthcare groups make large financial decisions as business owners. Founded in 2014, the Practice Cos. is a full-service real estate firm that handles the full spectrum of medical real estate needs, including leasing, acquisitions, group expansion, listings, development and practice transitions. The company includes Practice Real Estate Group, Practice Transitions Group and Practice Capital. Founder and CEO Thomas Allen has led the company to three-year revenue growth of 270%, ranking it among the fastest-growing private companies on the 2022 Inc. 5000 annual list. Among sub-markets and sublists, the Practice Cos. ranked 293 in Texas, 120 in real estate and 90 in Austin, TX. During this period of growth, the Prac-tice Cos. demonstrated resilience amid supply chain woes, labor shortages and the ongoing impact of COVID-19. Allen successfully guided the company, continued operations and sought out opportunities during the uncertainty, and as a result, the company did not lose a single agent or employee. The Practice Cos.' Austin office recently gave back to the community when its employees spent a morning volunteering at Community First Village, an East Austin development of tiny homes and trailers that is managed by Mobile Loaves & Fishes and provides long-term housing for people affected by homelessness.